Everybody deserves a beautiful, straight smile – don't you agree? If you're reading this, you're thinking about going to the orthodontist to fix your teeth.
Sure, you might want a straight set of teeth, but are you willing to pay the price? Managed orthodontic care is expensive, and Invisalign or braces could set you back upwards of $6,500.
Wait, before you turn despondent – what if there was an affordable solution?
Candid offers you remote orthodontic care at a fraction of the cost; does that sound interesting?
In our Candid teeth straightening reviews, we'll unpack the offer from this leading at-home teeth-straightening solution.
Candid is an exceptional choice for those seeking at home teeth straightening
Our Recommendation
Candid is a top choice for at-home orthodontic care. Candid is a standout from the competition, thanks to its innovative scanning and checkup process.
Sure, it might cost a bit more than Smile Direct Club and other alternatives like byte. However, with Candid, you're getting top-quality care that's the best in the at-home aligner market.
Candid ensure it covers all your dental care bases with the inclusion of whitening gel with your purchase. You get one free bottle of whitening formula with a $25 value-free with your order.
Candid might be one of the newer players in the at-home teeth-straightening market, but it's the highest-quality package available for your teeth straightening requirements.
Save 50% off the purchase of your Candid Starter Kit
Check out this special offer now!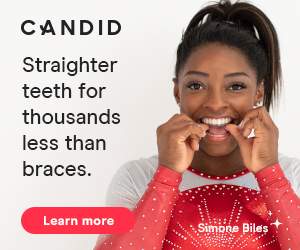 Candid Teeth Straightening Reviews: What Is Candid?
Candid is a newcomer to the at-home teeth-straightening market. Founded by Nick Greenfield and Lilla Cosgrove in 2017, Candid is at the top of the premium-end of at-home teeth straightening solutions.
The company decided to make orthodontic care affordable and accessible to the general public, competing with the traditional "Invisalign" system touted by orthodontists.
Nearly four years into its business life cycle, Candid is one of the leading brands. It's the only at-home solution offering advanced remote monitoring of your treatment using real orthodontic professionals. Most other aligner companies work with a combination of dentists and orthodontists to manage your care.
Candid uses a set of 24-aligners to transition your teeth from crooked to straight. You use each aligner for two to three weeks before progressing to the next one in the series. By the time you reach the end of the treatment, you have a perfectly straight set of teeth.
With Candid, you get managed care through a cellphone app on your phone. Therefore, you skip paying for all the trips to the orthodontist's office.
Orthodontic treatments like Invisalign are four times the Candid price because of the consultation and lab work involved in your treatment. With Candid, you get the same level of care at a fraction of the cost.
Candid Teeth Straightening Reviews: How Do I Start with Candid?
Starting with Candid is easy. You can order your impression kit online and do everything from your home – or visit the Candid studio for an appointment. Considering the status of the pandemic ravaging the world right now, we imagine you'll be ordering the impression kit for home use.
After sending your impressions to the Candid team, a professional, qualified orthodontist reviews the molds and your scans. They create 3D models of your teeth, which they use to design your custom aligner treatment.
You'll receive updates on your aligners through your app, and the Candid team mails your aligners to your home in one box. From there, you'll connect with your orthodontic professional via an app on your phone.
The orthodontist checks in with you periodically, asking you to scan your mouth using the kit provided to you with your aligners. You mount your phone into the scanning tool and take images while looking at the viewfinder in your bathroom mirror.
If the orthodontist is happy with your progress, they tell you to move onto the next aligner in the series. Since Candid uses qualified orthodontists in the checkup process, you typically move through the process faster than with other aligner companies like Smile Direct Club or Byte. To get our comparison, check out our Candid vs Byte review.
You'll wear your aligners for 22-hours each day, taking them out to eat and drink. Average treatment times with Candid are three to four months. If you're going with the nighttime protocol, it's going to double your treatment time.
What Does Candid Cost?
By now, you're probably wondering how much does Candid teeth straightening cost? Here's the great news, it's 75% less than Invisalign! If you want to start with Candid, you have the option of taking it for a cash price of $2,400 for its treatment.
When you commit, you'll receive the following with your order.
Cheek stretching tool
Putty catalyst and aligner base
Bite plate guide
Lower jaw trays x2
Upper jaw trays x3
Prepaid return shipping box
The website is currently running a promotion offering you a saving of $300 on your treatment. You can get the Candid experience for $2,100 if you commit today.
However, if you can't afford the upfront payment costs, Candid offers an in-house financing solution with no credit check. Take it on credit, and you'll pay $399 down, with 24-monthly installments of $99.
If you're tasking your impressions at home, you'll need to order an impression kit for $95. However, check the site periodically; they run discounts on the kits from time-to-time.
If you want to avoid the costs of the impression kit, visit a Candid Studio. A consultant scans your teeth for free, assisting you with registering your account and starting the process of identifying the right treatment plan for you.
Can Candid fix crooked teeth?
Yes! Candid is one of the market leaders in at-home teeth straightening. With Candid, you get access to real orthodontists that manage every step of the process for you. With Candid, you're getting orthodontic-quality care in the comfort of your home.
Candid or Smile Direct better?
Both companies offer a similar product, and you'll get the results you want with either. However, with Candid, you get a better checkup system and managed care from a real orthodontist. Smile Direct Club uses an interface with your account to monitor your progress, and it works with a combination of dentists and orthodontists to manage the process.
How much is Candid teeth straightening?
Candid charges $2,400 for the entire treatment, including managed orthodontic care. They're currently running a promotion where you can get $300 off your order if you hurry and commit to your treatment right now.
Is Candid reliable?
Navigate to the official Candid website, and click the Results tab in the top left of the page. You'll find hundreds of reviews from satisfied Candid clients, and some of the results are absolutely amazing! Sign up with Candid, and you could be the next success story!