Do you find yourself closing your lips when taking a selfie? If you're self-conscious about your crooked teeth, it's time to do something about it. With Candid, you'll be snapping selfies of your stunning straight teeth in a few months.
Candid is a leading at-home teeth aligner solution. The company offers you managed orthodontic care from the comfort of home. In our Candid braces reviews, we'll show you what's possible by starting your aligner treatment today.
What are the Pros and Cons of Using Candid Co Aligners?
Conclusion:
According to the Candid aligners before and after photos on the site, the system works. We think that Candid has the best at-home aligner solution available. Candid is the only company offering advanced remote monitoring of your treatment using real orthodontists.
You might have to pay a few hundred dollars more over the competitors, but it's worth the extra money. With the professional treatment plan from Candid, you'll progress through your treatment faster than with other companies.
We highly recommend Candid. Visit a Candid Studio or order your impression kit online, and start your orthodontic aligner experience today.
Save 50% off the purchase of your Candid Starter Kit
Check out this special offer now!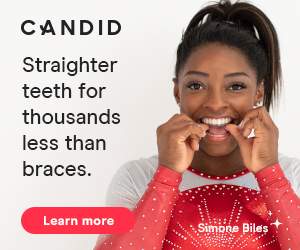 Candid Braces Reviewed – What Is Candid?
Candid is a company specializing in aligner teeth-straightening systems. However, unlike Invisalign, where you need the aligners' fitment in an orthodontist's office, Candid lets you do everything from home.
Candid works with people who are dealing with minor dental issues with their teeth involving gapping and crowding. The company issues you a set of 24 aligners that you wear in succession, gently pulling your teeth straight.
You progress through your treatment under the direction of a licensed professional orthodontist, ensuring you get the best-managed care available.
Founded in 2017 by Nick Greenfield and Lilla Cosgrove, Candid is a new player in the at-home aligner industry. However, the company is making waves with its innovative offer.
How Does Candid Work?
When visiting your orthodontist's office, you have the option of going with braces or Invisalign for your teeth straightening requirements. Invisalign is the more common solution for minor dental issues involving gapping and overcrowding of the teeth.
Candid offers you the same solution, providing you with a set of plastic aligners designed to transition your teeth into a straight, uniform position. However, with Candid, there's no need ever to set foot in an orthodontic practice.
As a result, you save thousands of dollars on straightening your teeth. Since you have no trips back-and-forth to the orthodontist's office, you save on gas, consultations, and lab fees. Candid treatments come in at a quarter of the cost of standard orthodontic solutions like Invisalign.
Candid operates as a remote teledentistry company, similar to SmileDirectClub or Byte. If you are not sure which to choose, check out our Byte vs Candid comparison.
With this model, you get professional orthodontic care through a manage remote solution. You'll communicate with your orthodontist through a dedicated app on your cell phone.
The orthodontists guide you through each phase of the treatment, ending with a positive outcome and a brand new smile that's perfect for flashing in selfies.
With Candid, you get so much more than a straight set of teeth – you get your self-confidence back.
Candid Braces Reviews – How Do I Start with Candid?
To start with Candid, visit the company website. You have the option of booking an appointment with a consultant at a Candid Studio or ordering your impression kit online. If you choose to visit the Candid Studio, there's no need to go to the expense of ordering an impression kit.
A qualified professional consultant scans your teeth for free at the Candid Studio and sends the data to the orthodontic team at Candid HQ. From there, a skilled orthodontist constructs 3D molds of your teeth using cutting-edge technology.
They design your aligners for you and ship them to your doorstep in one box. You'll progress through each of the aligners in two to three weeks, moving on to the next one in the series under the direction of a qualified orthodontic practitioner.
The difference with Candid is the level of care you receive during the treatment. Most other companies only send you a message telling you when to move onto the next aligner. With Candid, you use the unique scanning tool included with your kit to scan your mouth during your checkup.
The orthodontist gets access to that data, allowing them to determine how your treatment is progressing. Because Candid works with real orthodontists, your treatment times are usually faster than with other aligner companies.
Review of Candid Braces Reviews – What Does Candid Cost?
Candid braces cost a lot less than an Invisalign solution, but they are the most expensive at-home option. However, the extra cost of Candid is worth the money. You get access to orthodontists, with regular checkups and a faster treatment time than other leading brands.
If you want to start with Candid right now, visit the official website and sign up. Candid offers you the complete treatment for a cash price of $2,400. If you want to start today, the site is running a limited promotion offering you a $300 discount. That means you get the Candid aligner therapy for $2,100.
We recommend going to the Candid studio for a free scan of your mouth – that saves you on the $95 cost of ordering the impression kit online.
If you want to take your treatment on credit, Candid offers in-house financing. You can start with your treatment for as little as $399 down and 24-monthly payments of $99.
With Invisalign costing anywhere up to $8,000 for the treatment, the Candid option is far more affordable. You get the same managed orthodontic care from your home, at 25% of the cost.
Frequently Asked Questions
Is Candid legitimate?
Yes, Candid is a legitimate company, with hundreds of thousands of clients around the globe.
How much do Candid braces cost?
Candid retails its aligner system for $2,400. However, the website is running a promotion where you can get your treatment for $2,100, saving you $300. That puts it in line with other solutions like Byte and Smile Direct Club.
Is Candid or Smile Direct better?
Smile Direct Club is cheaper. You get it same package for $1,950, plus a free whitening kit. However, with Candid, you get improved managed care throughout your treatment. Candid uses real orthodontists, where Smile Direct Club splits the work between dentists and orthodontists.
There are other more affordable options like SDC and Byte. However, with Candid, you're getting the same level of orthodontic care you get with the Invisalign system for a fraction of the cost.
Does Candid clear aligners work?
We understand that you're probably thinking this is all some scam, and you're not going to get results using Candid aligners. If you're looking for concrete proof of results, navigate to the official Candid website, and click on the "Results" tab. You'll see hundreds of amazing reviews by real-world users. Candid also has a 4.8-star rating on Google reviews from more than 300 verified users.