Everyone deserves a beautiful smile. Unfortunately, visiting an orthodontist for treatment is far out of reach of most American's budgets. At $8,000 or more for a set of braces and follow up treatments, most people can't afford to fix their teeth with traditional orthodontic solutions.
Fortunately, Candid Aligners is here to offer you top-quality orthodontic treatments for a fraction of the price. Founded in 2017, The Candid Co is a new player in the online smile correction market. This company offers a similar product to Smile Direct Club, Smilelove, and the other remote orthodontic service providers.
With Candid Teeth Aligners, there's no need to see a dentist or orthodontist for the smile you deserve. You get a custom-fitted, 3D printed aligner to help you gradually change your teeth' position, resulting in the same lasting effects as traditional orthodontic braces.
In this our Candid Aligners review, we'll unpack everything you need to know about using these latest aligners.
What are the Pros and Cons of Using Candid Co Aligners?
Our Review:
We liked Candid's average treatment time of 6 months and the ability to remotely consult with experienced orthodontists. The at home impression kit comes with putty and 5 setting trays for the a simple teeth mold. Candid Co offers an effective, high quality remote orthodontic experience and treatment plan. They are on the higher side of the price range for this service, but in exchange you receive top quality service and product.
Save 50% off the purchase of your Candid Starter Kit
Check out this special offer now!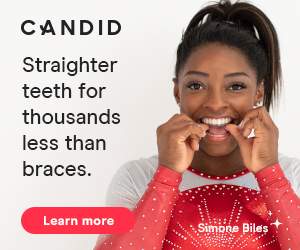 Candid Aligners Review: How Do Candid Aligners Work?
To start your journey to the smile of your dreams, you'll need to check if you are a successful candidate for the treatment. You complete the initial assessment in less than a minute on the official Candid website. This is the first step for your aligner treatment.
There are a few questions about your misalignment and crowding issues, and you need to state when you want to start your treatment. Candid won't accept you if you have severe dental problems, such as heavy overcrowding, broken teeth, or other complicated dental issues.
Before you start working with Candid, they recommend visiting your dentist for a checkup if you think you have any dental issues you need resolving before you begin the treatment. This process allows you to make sure that the treatment plan aligns with your goals for teeth straightening.
Starting your treatment before clearing up problems like periodontitis or cavities can result in complications with your Candid Aligners and the effects on your teeth.
Start the process by ordering your starter kit online, or visit one of the Candid Studios close to your home. You can take impressions at home or visit the retail location for a scan. Either option is effective at providing the orthodontist with all the information they need to complete your clear aligners.
The Candid aligner starter kit consists of the following items.
Instructions for taking your impressions
A pair of protective gloves
A cheek stretcher
Impression putty and five setting trays
A poking tool
Prepaid return box
The treatment lasts 6 to 8-months, and you'll receive new clear aligners as your progress through your treatment. Your online plan includes the following"
The name of the consulting orthodontist
The duration of wear for each set
The number of aligners included in the treatment plan
A 3D model of your treatment journey
A link to make your payment
Remote monitoring with a professional
The Candid alignment kit consists of the following items
Custom aligners with case
Whitening material
A cheek stretcher
A pulling tool
An app scanner
Chewies
Candid Aligners Pricing – How Much Does a New Smile Cost You?
The Candid alignment kit is an affordable system with a fixed price. Here is the fee schedule directly from the Candid website.
Starter kit: $95
One-time payment plan: $2,400
Installment plan: $99 monthly for 24-months and a $399 down payment
Retainers: $99
If you visit the Candid studio for a fitment scan, you don't have to pay the starter kit fee – that's a considerable saving, and it gets you faster access to your aligners. The Candid Co offers all its clients a satisfaction guarantee, so you know you're not throwing your money down the drain.
Candid also works with health insurers, check to see if your insurance provides coverage for your treatment. If you have orthodontic benefits in your policy, Candid can submit your claim on your behalf, they honor FSA and HAS as well.
Sign up for the Candid Co mailing list; they send out discount coupons and promotional offers all the time.
What Documents Are Required to Support Your Medical Expense Claim?
The IRS has a handy qualifying tool on its website to help you determine if you qualify for a deduction on your orthodontic expenses. When registering for the process, you'll need the following information.
Your filing status
The amount and the type of expense
The year of the expense
Your annual adjusted gross income
If you experienced reimbursement or paid through your Archer Medical Savings Account or Health Savings Account
The questionnaire takes 15-minutes to complete, and you'll know by the end if you qualify for the deduction. The IRS states on the site that this calculator doesn't count for advice. You should always check with a tax attorney before submitting expense claims on your tax return
Are There Any Exceptions to My Dental Coverage?
There are a few exceptions to dental work that you can claim on your tax return. Cosmetic dentistry procedures, such as teeth whitening, don't qualify for a rebate from the taxman. If you have any concerns, make sure you speak to your tax advisor before filing.
Keep Your Receipts
Make sure you keep all your receipts for your treatment sessions. When filing an itemized tax return, there is always the possibility that you may receive a request for an audit.
If you do get audited, you'll need to prove your expenses, or you'll end up in trouble. Keep your receipts available and in storage for at least 5-years before throwing them away.